A Day In Life Of A Lifeguard
If you remember the TV series Baywatch, then you would fondly remember the opening of the assemble cast running in slow-mo (Pamela Anderson in particular) in their famous red swimsuits, all wet and drippy. The series also spawned a whole new interest in the lifeguard profession back in the 90's.
Lifeguards are usually up on their chair above, overlooking the crowd on their high-seated throne. So needless to say, it can get pretty lonesome sometimes just watching people and not talk to them.
However, being a lifeguard isn't just about saving people from drowning, nor is every lifeguard physically fit and attractive as portrayed in Hollywood. Like every job in the world, a lifeguard carries huge responsibilities over their shoulder and sometimes things aren't as rosy as it seems:
1. They get to save lives
With great power, comes great responsibility. Lifeguards carry a huge responsibility over the safety of people at the beach/pool because they are the ones who are watching over your shoulders, like a guardian angel. They are trained to react almost instantaneously when they spot trouble.
2. It's more than meets the eye
A lifeguard job scope isn't just about sitting and watching people, lifeguards have to go through various levels of rescue training processes such as CPR and learning to use an AED defibrillator.
3. They always have tan skin
Duh! Lifeguards spend most of their time under the scrutinizing hot sun so naturally, they have tan skin.
4. …..which may not always be a good thing
5. They smell like sun screen lotion
6….and chlorine
7. Their whistle commands great power
That small plasticky thing hovering over their neck grants they authoritative power and is a sign to the others that "they're the boss". They get to boss people around because they understand the rules better and they have the power to save lives.
8….but it's still ineffective against kids
9. Some days can be pretty boring
10. Other days can really make them jump off their seat
11. Rain is a godsent to them
12. ….but sometimes people refuse to leave the pool
13. They're essentially staring at a swimsuit magazine everyday
Because they care about your safety (of course, what else?).
14. But sometimes, things can get strange

15.  Some people deliberately "drown" themselves in order to be saved *wink wink*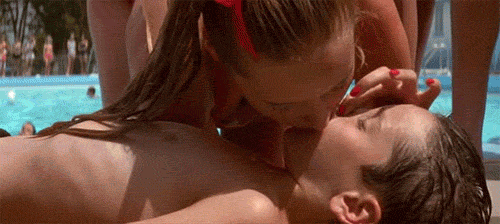 16. But not all lifeguards will fall for the trick